First Edition
Greetings castmates! The River City Gazette is in publication so look forward to this weekly e-newsletter. Who knows, you may be in it! I hope this adds to your theatre fun.
Rehearsals
Rehearsals are very productive and it is impressive how well we are performing these songs. Kudos to Director Dana and her crew. Their hard work shows! Stay up with your calendar to be sure you know where rehearsal is each night. This week, we will be at Fayetteville UMC Monday, Tuesday, and Thursday nights.
'The Music Man' goes
'Into The Woods'
If you have not already made plans, please join the cast on Friday, June 13th to see 'Into The Woods.' This play combines the well-known fairy tales of Cinderella, Rapunzel, Jack and the Beanstalk, and Little Red Ridinghood with the story of the Baker and his Wife who desperately want a child. The play is enchanting and fun. You or your parents can check it out online at www.thetwilighttheatre.com This is another Twilight Theatre production so we certainly want to support the cast. I'm sure they will return the favor. We will meet at Charles Wadsworth Auditorium at 7:30 pm.
"O-ho the Wells Fargo Wagon
is a'coming!"
Guess what? We have a full-size, fully working covered wagon for our play! We will decorate it to be the Wells Fargo wagon. It will be a great addition to "River City" on The Fred stage.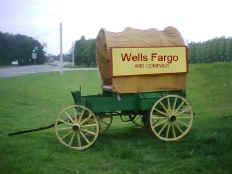 Did you know?


'The Music Man' was a very successful play and has been made into a movie twice. You may be surprised to learn that 'The Music Man' was not the original title. Do you know what the title was?

Just a reminder
* You have 7 days before ads are due!
* You have 11 days before we have our first full show rehearsal.
* You have 21 days until you turn in your scripts.
* You have 29 days before your rehearse in costume.
* You have 40 days before opening night.
Ice Cream Party
Everyone

mark Tuesday, June 10th as Ice Cream Night. We will rehearse at The Fred that night, and when we are done at 9 PM, we will all go to the Marble Slab for ice cream. You have to pay your own way so be sure to bring money, but it's all half-price just for us! Be sure to let your parents know.

Fun Facts


When Eulalie Mackecknie Shinn is performing with the Wa Tan Ye girls, she says "I will now count to twenty in the Indian tongue..." and proceeds to count in nonsense words ("Een teen tuther feather fip!..."). Sounds like non-sense words, but it is actually some form of traditional British sheep-counting. Sheep are mentioned in the play. Does anyone know where?

Actor Courtesy
Please make everyone effort, pull magic tricks, or harness the power of The Force to be at rehearsal on time! This is a huge team effort and starting on time means we end on time.

Photo Fun
The River City Gazette will feature loads of photos of you! These are randomly picked so if you aren't in them this week, check next time.