Ya Got Trouble!
Yes, it's true... the great American pool hall has come to River City courtesy of Mayor Shinn. So why all the ruckus? Pool actually means 'collective bet' and represents the evils of society: smoking, drinking, and gambling. A poolroom was originally a betting hall for horse racing. Horses like Dan Patch! Open a pool hall, and those sinful habits are not far behind. Who says, "Smite that devil and keep our young boys pure?"

Rehearsals
Rehearsals move around this week so pay close attention.
Monday - The Fred in Peachtree City
Tuesday - The Fred in Peachtree City Thursday - Fayetteville UMC.



Photo Fun


The fun continues as you all seem willing to be a little zany for the camera. Don't see yourself in them yet? Keep checking. And if you have some to share in the Gazette, send to Tony.
Shinn Family Photo
The Shinn Family: Mayor George, Eulalie, Zaneeta, Stella, Eleanor, Martha, and Gracie gathered 'closely' for this family photo. Mayor Shinn commented, "I'd like to marry them all off, but not to any wild kid from the wrong side of town!"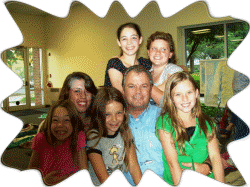 Ice Cream Party!
Remember that Tuesday night, June 10th, is our ice cream party right after rehearsal at The Fred. We'll go to Marble Slab Creamery at 403 City Circle in PTC. See the map below.
Shipoopi
We love the song, we'll love the dance, and we've read it enough in the script. So who knows what Shipoopi means?

Captain Billy's Whiz Bang
After serving in World War I, Wilford H. "Captain Billy" Fawcett began printing a small bulletin of barracks humor for disabled servicemen in a veterans' hospital. A wholesaler picked up the publication and started selling it in hotels and drugstores. Captain Billy's Whiz Bang is considered the great grandfather of the National Lampoon and other humor magazines. It is considered a mirror of contemporary society in the Roaring Twenties. Note: If Captain Billy's Whiz Bang did not appear until after World War I, then Prof. Harold Hill's line in The Music Man is an anachronism. - something that is not in its correct historical time.

Fun Facts
Along the way, Meredith Willson wrote 40 songs for The Music Man. 22 of them were cut. They include "You Don't Have to Kiss Me Goodnight" (sung by Tommy to Zaneeta), a partner song for "My White Knight" harmonizing with "A Sadder but Wiser Girl". "Iowuh" that had a Native American beat. "Blessings" was written during the out-of-town run in Philadelphia, but was dropped. Also dropped were "I've Already Started to Try to Figure Out a Way to Work To Try to Get to You", "I Found a Horseshoe", "My Baby", "Tomorrow", "Chicago", and a salesman's version of "Ya Got Trouble".

Answers
Last week, you were asked about the original name of "The Music Man." The answer is "The Silver Triangle." You were also asked where 'sheep' are mentioned in the play. It is toward the end of the play when Prof. Hill is apprehended, but the people 'stand up' for him. Mayor Shinn says they "stand there like a cote of Shropshyre sheep."
'The Music Man' goes
'Into The Woods'
This Friday, our cast will watch their cast at Charles Wadsworth Auditorium. See you then! Anyone want to join us for dinner before the show? Contact Tony.
Coming Up
I'm never at a lack for imagination and certainly welcome advise. If you have some fun ideas for the cast, let me know. For now, just know a cast cook-out is coming next!