At The Fred
Rehearsals are moving right along now that we are at the Fred. Big ups to Director Dana for bringing it all together this past week. We almost ran through the entire show last Tuesday. The songs, the blocking, the lines, and the laughter... bring it!
Hot Dog Cook-Out
On Tuesday night after rehearsal, our wonderful cast parents will prepare a hotdog feast for everyone. Come enjoy the hot dogs, chips, and drinks. (And make sure you thank those parents for sweating it out with us!)
"Not-So-Coincidental" Willson
River City was based on Meredith Willson's home of Mason City, Iowa.
As a kid in the winter, Willson and his friends would grab onto the runners of the Wells Fargo Wagon to hitch rides.
Who Said It?
"Cowards die a thousand deaths, the brave man... only 500?"
"Even if you can quote Balzac and Shakespeare and all them other high-falutin' Greeks."
"You pile up enough tomorrows, and you'll find you are left with nothing but a lot of empty yesterdays."

What Are They?
» Cubebs
The dried, unripe berry of a climbing vine of the pepper family - sometimes called tailed pepper. Cubebs used to be crushed and smoked in pipes and cigarettes. Hence, cubebs are cigarettes containing the crushed berries.
» Tailor-Mades
Tailor-mades are machine made cigarettes. These came into existence around 1880.
» Sen-Sen
Sen-Sen was the Tic Tac of the late 1800s and early 1900s. Sen-Sen was developed before the turn of the century by T.B. Dunn and Co., perfume dealers. Hence, Sen-Sen was sold as a breath perfume. Sen-Sen can still be purchased today.

Last Week
Last week, you were asked what Shipoopi means. Did you get it? From the very words to the song, Shipoopi means "the girl whose hard to get." You were also asked who said, "Smite that devil and keep our young boys pure?" It is said by Harold Hill during the intro dialogue to 76 Trombones.
Ice Cream Social in River City!
We had almost 60 people descend upon Marble Slab Creamery last Tuesday for a fun night of great ice cream. Cool.... oh yes.... very cool!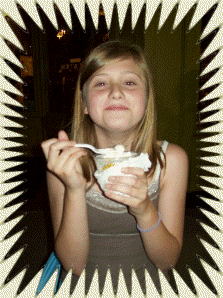 'Into The Woods' a great show!
Congratulations to our Twilight Theatre brothers and sisters who performed in Into The Woods these last two weekends. What a great show! The individual performances and intricacies of the music made for a superior production. A number of your castmates from The Music Man joined together to attend Into The Woods this past Friday night. Superb! Congrats to Director Robbie Kirkland and the entire cast.

Photo Fun
The River City Gazette is proud to show off your photos so send them to Tony via email. And when you see the camera aimed at you, smile! You never know where that photo will show up!
The character Marcellus Washburn—Harold Hill's sidekick—was the name of the manager of the Mason City B.F. Goodrich tire store in 1918.
Eulalie Shinn's (the wife of Mayor Shin) first name came from a high school classmate of Willson's named Eulalie Johnson.
Rosalie Willson put Meredith Willson through the dreaded five-finger exercises on the piano. This was recreated in The Music Man with Marian Paroo teaching her student Amaryllis.
Rosalie's mother's name was Lida, as was Rosalie's favorite sister, Lida, who lived in Topeka. The song "Lida Rose" was specifically inspired by his mother and aunt.
Just prior to the "Lida Rose" number, Harold mentions a bassoon player named Madame Rini. Rini was the name of Meredith Willson's wife.
The character Tommy Djilas' last name came from a New York City Bulgarian delicatessen worker Willson knew.
The barbershop quartet in The Music Man was based on a barbershop quartet in Mason City that Meredith knew, called "The Rusty Hinges". Meredith himself was in a barbershop quartet group.
Willson's grandfather Alonzo established the first public library in Mason City. And his mother used to take him to the library on Saturday nights. Hence Marian the librarian.