Final Edition
Greetings castmates! It's time to stop the presses in River City as the Gazette closes production. What a great run we have had. This publisher will miss you all so very much.


Costume Returns
Many of you used costumes from Twilight Theatre, or borrowed from other theatres. It is very important to return these. Be sure to clean and return the costumes at the cast party. Also make sure they are completely dry so they will not mildew during storage. Remember any bows or ties that went with the costume.
Why We Act
"We act because we love the theatre experience and very little of that has to do with the drudgery of memorizing lines or fear of facing the lights. It is about lending your time and your talent to a common goal that binds us together. It is the accomplishment of becoming greater as a whole than we are as individuals. It is the shared thrill of success when we know a job is well done and the roar of applause still echoes in our ears. And finally, it is the journey to become characters on a stage while being given the privilege to discover the wonderful people with whom we share it."
So what's next for Tony?
To be quite honest, I loathed the day when the play is over and rehearsals are no more and I have no immediate means to see the many fine members of The Music Man cast. I don't live here and I will rarely run into you in town. I hated the idea of just saying goodbye to people I with whom have shared so much time, work, and sweat. I have learned in theatre, that we do say goodbye, and then find each other again on stage as we join another production. I truly look forward to that day. And until then... there is sunlight on the horizon and you have not seen the last of me.
A fond farewell from the Shinn Family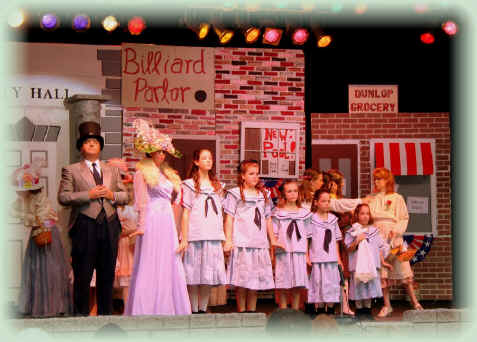 By the Numbers
We saw over a thousand people visiting us in River City. We performed on one of the largest stages you may ever use as an actor. We had about 50 members in our cast, 26 members in our orchestra, and a dozen or so in the crew.


If Nothing Else...
During the past week, I have received a long list of thanks from many of you or your parents. I must share that appreciation to the many, many people who I asked to get involved. What a great group of people because so many eagerly jumped a the chance to be a part. I hope you are all left with great memories and friendships. I am.

Frank Gotch
Frank Gotch, born in Humboldt, Iowa on 27 April 1878, is considered by many to be the first great professional wrestling champion. He is famous for his "step-over toe-hold." On Labor Day in 1908, Gotch, the then American Heavyweight Champion, defeated World Heavyweight Champion, George Hackenschmidt, at Comiskey Park in Chicago to unify the two titles. Gotch died in 1917.
Strangular Lewis
Ed "Strangler" Lewis was born Robert Herman Julius Friedrich in Wisconsin in 1889. Around 1910, he took the name Lewis from a wrestler of the previous century known as Evan "The Strangler" Lewis, a master of the strangle hold. Ed "Strangler" Lewis never used the illegal strangle hold but developed the legal headlock which, when properly applied, would render the opponent unconscious. In the days of Gotch and Lewis, there was no time limit on matches. There is no evidence that Gotch and Lewis ever fought.<![if !supportLineBreakNewLine]>
Wells Fargo Wagon goes home.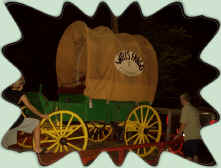 It's been a great stage centerpiece during our run of The Music Man, and having a new paint job, the Wells Fargo wagon returns to her post at Roger's Bar-B-Que.
your living room sofa spends more time on stage than you do.

you have your own secret family recipe for stage blood.

you've ever appeared on stage wearing your own clothes.

you can find a prop in the prop room that hasn't seen the light of day in ten years, but you don't know where your own vacuum cleaner is.

you have a Frequent Shopper Card at The Salvation Army.

you start buying your work clothes at Goodwill so you can buy your costumes at the mall.

your children have ever begged you not to buy them any more Happy Meals.

you think Neil Simon is a misunderstood genius.

you've ever appeared in a show where the cast outnumbered the audience.

you've ever gotten a part because you were the only guy who showed up for auditions.

the set designer has ever told you not to walk on the left half of the stage because the floor's still wet -- five minutes before curtain.

you've ever been told your director has no eyebrows because he handled special effects for the last show.
you've ever cleaned a tuxedo with a magic marker.

you've ever said, "Don't worry - we'll just hot glue it."

you've ever appeared on stage in an outfit held together with hot glue.

you've ever seriously considered not doing in the murder victim because the gunshot might wake up the audience.

you've ever appeared in a show where tech week is devoted to getting the running time under three and a half hours.

your lighting director has ever missed a cue because he was blinded by the glare from the sea of bald heads in the audience.

you've ever appeared on stage in an English drawing room murder mystery where half the cast spoke with southern accents.

you've ever called for a line -- in front of an audience.

your mother has ever greeted you after a performance with the words "Don't give up your day job."

you've ever appeared in a show featuring a flushing toilet sound effect.
the audience recognizes you the minute you walk on stage because they saw you taking out the trash before the show.

you've ever menaced anyone with a gun held together with electrical tape.

you've ever had to haul a sofa off stage between scenes wearing a dinner gown and high heels.

you've ever played the father of someone your father's age.

your kids know your lines better than you do.

your kids SAY your lines better than you do.

you get home from rehearsal and have to go back to the theater because you forgot your kids.

you've ever appeared in a show where an actor leaned out through a window without opening it first.

you've ever heard a director say, "Try not to bump into the furniture," and mean it.

you've ever appeared on stage with people you're related to.

you've ever heard the head of the set construction crew say, "Just paint it black - no one will ever see it."